I was prepared to open our recent Weekend Gathering for men seeking freedom from sexual sin with a particular message…
But then Holy Spirit began to speak to me about dating vs. being married vs. experiencing marriage. This is a brief overview of those thoughts, the charts that I reference in the message, and encouragement for you that there is more!
This is just a few notes – I suggest you listen to the whole message.
Dating God – How we've got it wrong
Thanks to a close friend in my life, Donnie Kittle, I have begun to see a greater degree of spiritual parallels in the practical things around me, and the spiritual things of the Lord are becoming more practical. He told me once, "May the practical become more spiritual, and the spiritual become more practical."
As I was preparing a message for a group of men attending a recent gathering for those seeking freedom from sexual sin, I was drawn to the differences between dating and marriage. I often testify that I was 'married for years before I began to experience marriage," alluding to the difference between merely being married, and experiencing marriage.
Dating
Most of us treat our relationship with God as if we were dating Him. We are either committed to following His commandments, or we are opportunistically intimate with Him when it suits our schedule.
Not both.
May the practical become more spiritual, and the spiritual become more practical. – Donnie Kittle
Dating is meant to lead to marriage, but it often just leads to being married.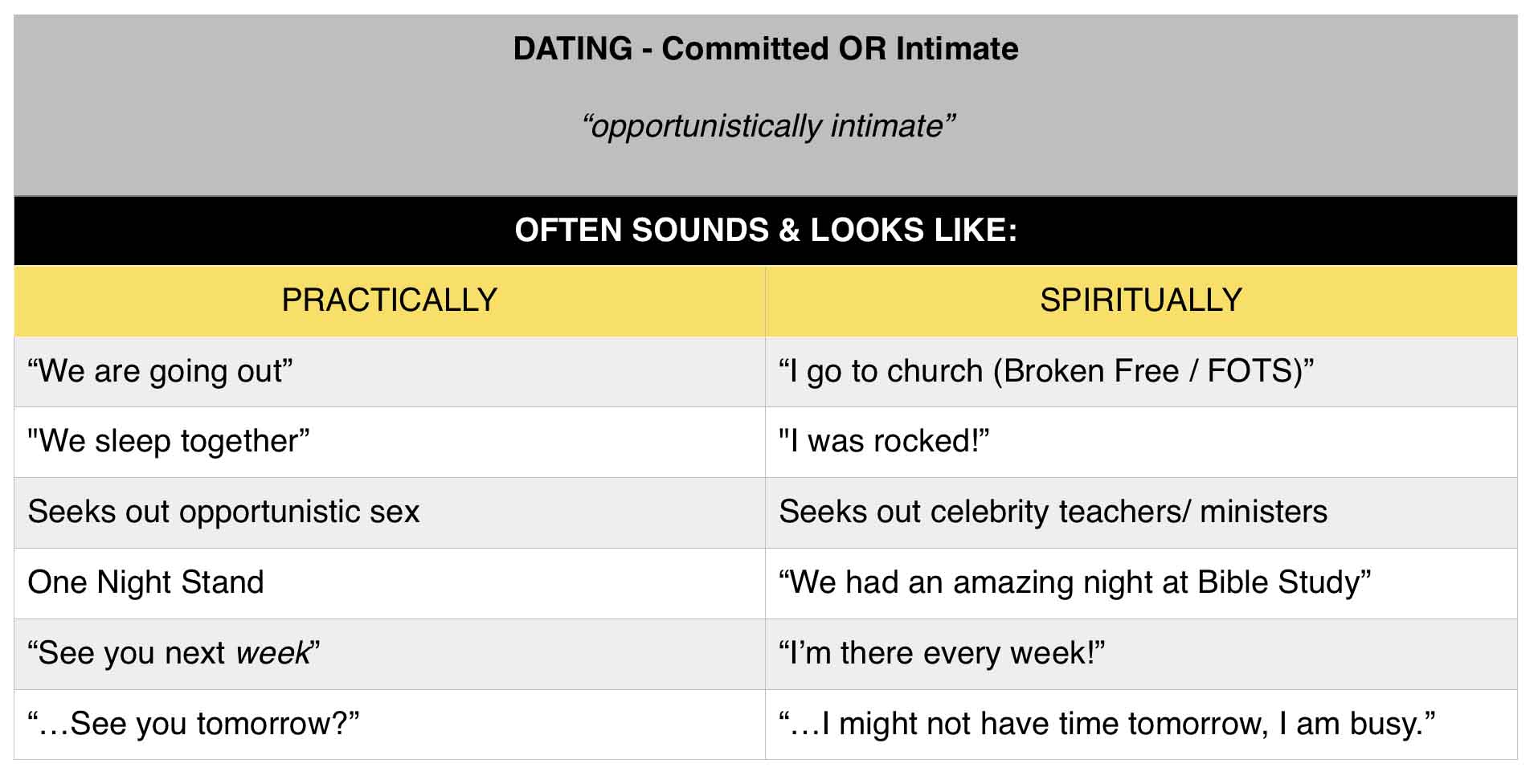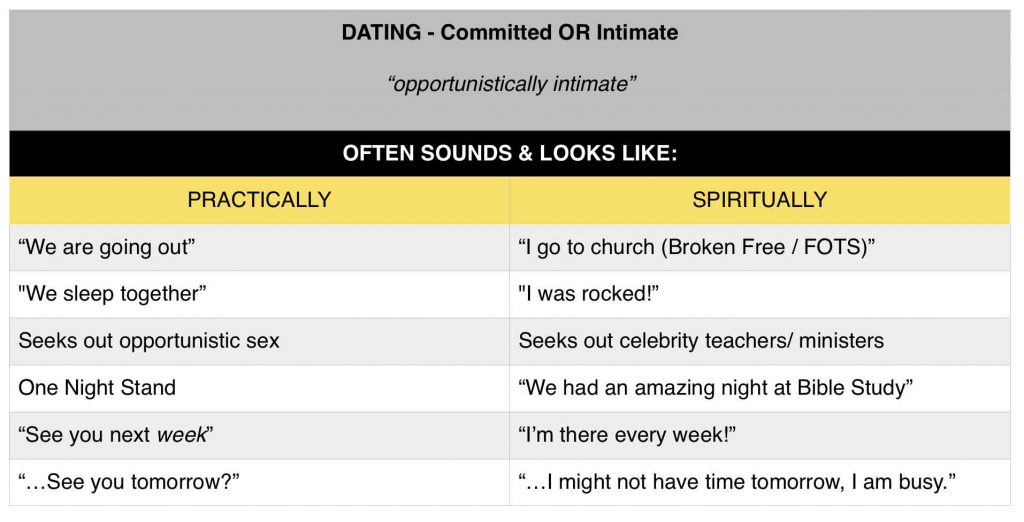 Married
Whereas dating is either committed or intimate (both practically in some situations, and spiritually), being married is being both committed and intimate. When you are married, it presents the proper context for intimacy with the Lord (and your spouse).
There is nothing inheritantly wrong with being married, unless that is where you stay.
The purpose of getting married is to enjoy marriage.
But marriage is more than just two people living under the same roof, with a certificate to prove their union.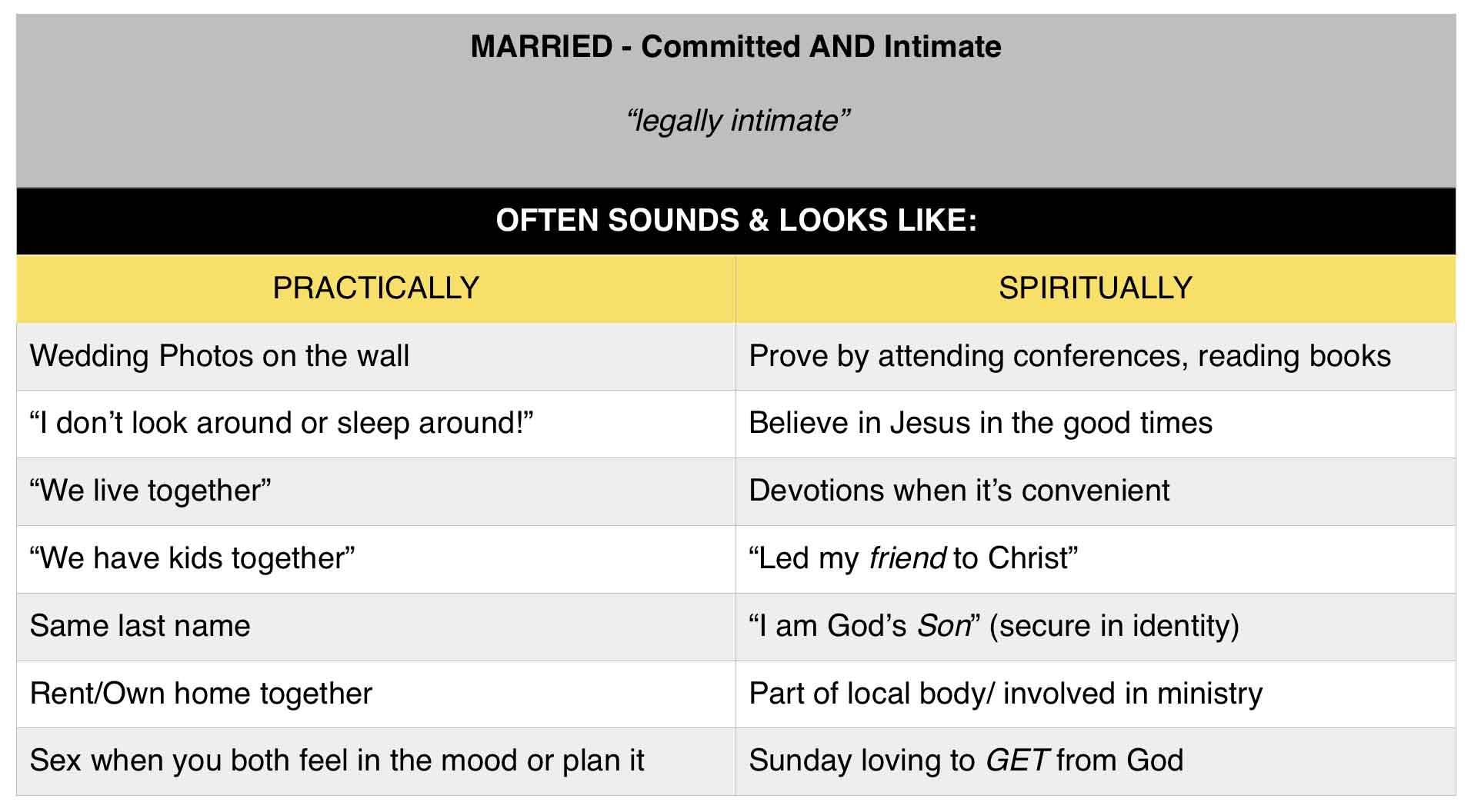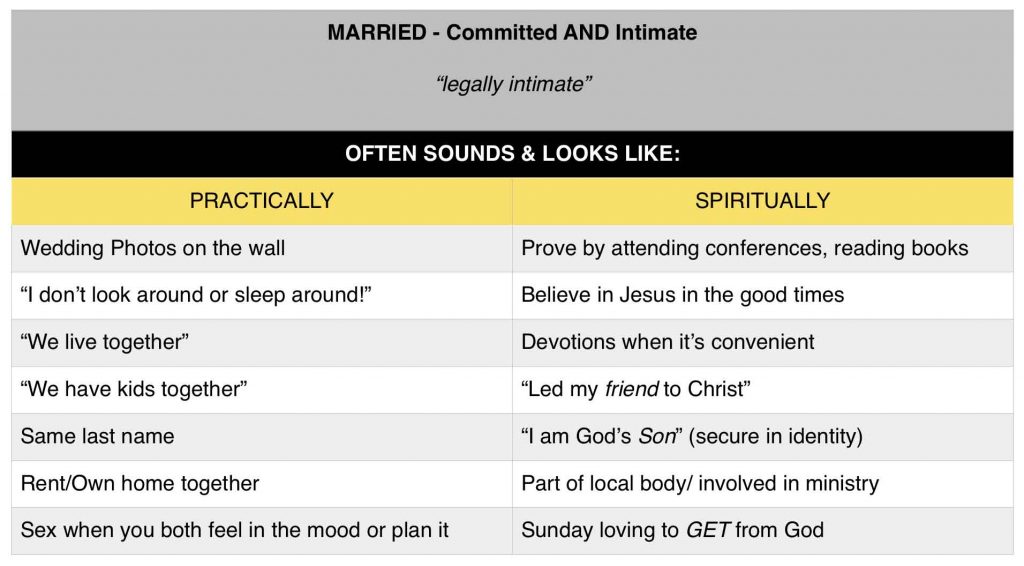 Marriage
Marriage's purpose transcends what most people think getting married will do for them: make the happy. Marriage was instituted to make you holy – not happy. There are lots of happy people who are not holy, but nobody who pursues holiness finds unhappiness. Holy people are happy. Happy people are not necessarily holy.
Marriage is a covenant – not a mere commitment.
Commitments change based on feelings and the actions of others, but a covenant is constant based on our identity in Christ.
Following commitments (or commandments) depend on our ability to uphold the law, but covenant depends on what Christ has already accomplished on our behalf.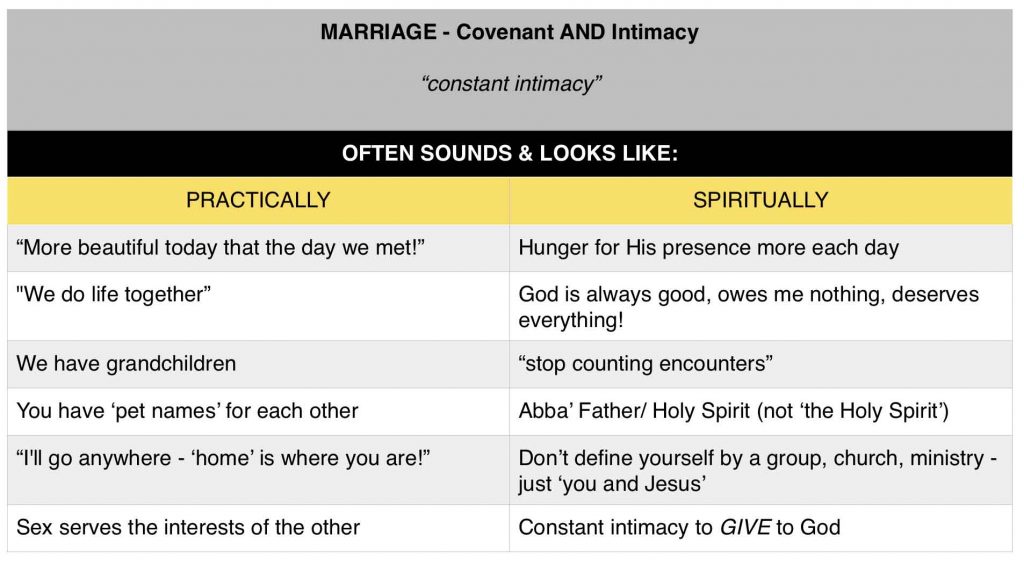 Your Decision
The question I asked the men on the weekend gathering was: are you dating God, or experiencing marriage with Him? What about with your wife? Do you just 'talk on the phone', or do you experience snuggling? Do you enjoy the wooing process of the Lord, or do you just want 'instant intimacy'.
Feeling His presence and being possessed by His love is waaaay different. Merely dating God for a long enough time will not magically produce a marriage. True love is a choice!